April 21st, 2014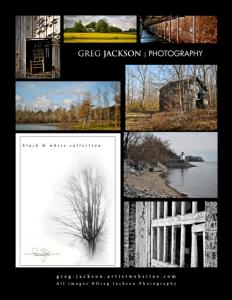 I will be participating in the Spring 2014 Gallery Hop in Madisonville, Kentucky, Saturday, April 26th, and will be located at "Amanda's On Main" home decor shop. Selected framed prints from my Black & White Collection, plus various color and b/w prints, matted w/o frames will be available for sale during the Gallery Hop. If you're in the Madisonville area, stop in and say hello.


Details:

Event: Spring 2014 Gallery Hop

Location: "Amanda's On Main", 28 Sugg Street, Madisonville, Kentucky. USA

Date: April 26, 2014

Time: 4:00pm – 8:00pm


Greg's Website
February 22nd, 2014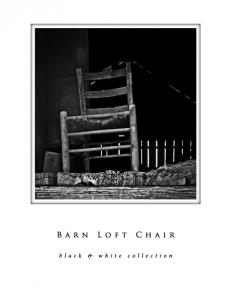 Blog #12
February 21, 2014


Amanda's has two prints from my Black & White Collection for sale at her home décor store (Amanda's On Main") at 28 Sugg Street, Madisonville, Kentucky.

Both prints are framed in nice, barn wood frames, and ready to hang. Sizes are 16"x20" (vertical), and 11'x14" (horizontal). The 16x20 is the "Barn Loft Chair" image, and the 11x14 is the "Feed Sack in Loft" image. The Barn Loft Chair image is shown in this particular blog. To view the Feed Sack image, go to my site at:
http://greg-jackson.artistwebsites.com .

February 13th, 2014
Blog #11
February 13, 2014

On Exhibit Now - Black And White Select Photography Collection
Select photos from Greg Jackson's "Black & White Collection", are currently on display for sale at the Red Wagon Antiques & Collectibles retail venue at Parkway Plaza Mall, 401 Madison Square Drive, Madisonville, KY 42431 270-821-3966.

Sizes range from 8.5"x11", 11"x14", and 16"x20".

All photos are professionally mounted on foam-core board and ready for framing. The 11"x14" and 16"x20" images are already framed in nice, rustic, barnwood frames with glass, and ready to hang.

Start your Spring redecorating efforts early. Stop-in and ask the store associates to direct you to Greg's images in display #020.


Peruse Greg's entire website for additional images in color and black & white:
Greg Jackson Photography


October 16th, 2013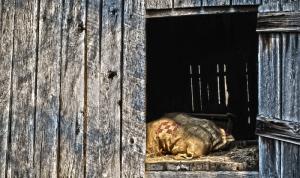 Blog #10
October 12, 2013


Well, it's been awhile since I've posted anything, so I thought I'd better get with the program and get back to it. I haven't been out much lately with the camera, acquiring only a few images during the limited outings, and I have also been scouring through my files and discovered a couple that had not been previously looked at or processed. Those (variations in the "Feed Sack in Loft" series) are now posted for viewing in the Rural and Barn Images Gallery.

Doing a bit more posting at Twitter, and have recently started marketing to specific businesses using 5"x7" greeting cards, with the current limited-time Discount Code included in the mailing. The current Discount Code, PKDZMD, ends on 20 October, 2013. If interested, be sure and enter the Discount Code in the space provided during the checkout phase and then click on "apply discount" (located in the same block). That will show the amount you saved for the total purchase using the discount. As an example, if you were purchasing Greeting Cards, and chose the 10 card option, you would save roughly $11.25 on that purchase, and a 25 card purchase option would save roughly $15.00. Not too bad a deal for one-of-a- kind artwork displayed on a top-quality folding card, with the ability to have text (up to 500 characters) typed in during the printing process. Plus, the order (10 & 25 card options) arrive in a nice sturdy box, envelopes included. Discounts cannot be applied towards frames, mats, stretched canvas material, etc., as per company policy.

When you get a chance, go to the website http://greg-jackson.artistwebsites.com and sign up/subscribe to my email list to receive notices of sale/discount events when they occur. I also occasionally run Limited Time Promotions on stretched canvas prints, and subscribing to the email list will get you that heads-up when it's published, because most of the promos of that nature normally only have 5 prints available for any particular piece presented in that format.

Subscribe to Greg's Email List

February 17th, 2013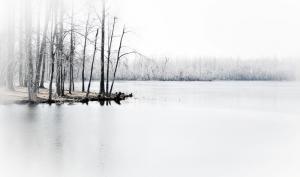 Blog #09
February 17, 2013

I decided to head downtown this morning and see if any new graffiti had been added to the small alley where the art work changes on occasion. Got down there about 7:00am and the sun was shining extremely bright, causing extreme glare off of brick and paint work, no matter which end of the alley I attempted to take the photos from. Plus, it was 20 degrees out there! Another deviation from my plan, were the large recycle bins (trash cans on wheels) and other debris that was in the alley for storage it seems. I did snap-off a few random shots of other stuff, but haven't even checked the camera card to see how they turned-out.

I would much rather take photos on an overcast day anytime over a bright, sunny day, whether it's early morning, mid-day, or early evening. I seem to do much better when it's overcast, at least in my personal opinion.

February 12th, 2013
Blog #08
February 11, 2013

Purposely woke-up early (it was still dark outside) this past Saturday morning with the sole intent of going downtown and checking out the alleys for any new graffiti, and possibly get a few new images to post. Another venture spoiled by inclimate weather, due to heavy wind and rain!

I have since though moved further into the 21st century and just joined Twitter, and I can be found at https://twitter.com/waterwings2011 . Mostly you'll just see news of added artwork and limited time promotion canvas sales, but feel free to stop by and say hello if you get the chance.


barn photos

February 8th, 2013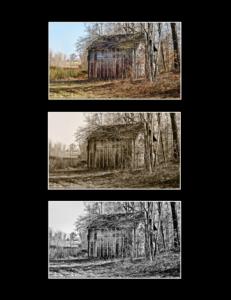 Blog #07
February 8, 2013

There is a ton of stuff on-line about making yourself known on the web to further sales, or whatever your endeavor may be. I currently have a Facebook "page" and just signed-up for Twitter today, for my photography items, and those are linked to my website (greg-jackson.artistwebsites.com), but that seems to be just sitting still, with not a lot of visitors. I don't spend a lot of time being internet socially-active, such as Facebook, Twitter, etc. Doing this blog plus a news release, but not a lot of feedback.

I currently have a 50% sale on all things on my site until 18 February, plus just initiated a seperate time-sensitive sale (ends in two days at 5pm) on two 11" x 14" stretched canvas pieces. Once that date comes around, I'll more than likely provide 1 or 2 more canvas pieces at the time-sensitive sale price. Put the word out if you're reading this!

Rambling here - A rainy, slow, dreary day to say the least. I'm ready for Spring! :)

January 23rd, 2013
Blog #06
January 23, 2013


50% off Sale in Progress!


I posted this in a press release at http://greg-jackson.artistwebsites.com , late yesterday, and thought the information might prove beneficial to anyone who may not have read the release but happen to read my blogs.

From now until February 18, 2013, there is a 50% off Sale on all prints at the above listed site. The discount is for any print, but does not pertain to frames, mats, single Greeting Cards, or other accessories.

Choose from Canvas, Acrylic, Metal, Framed, or standard Unframed prints (unframed prints are shipped rolled in a sturdy tube). 5" x 7" Greeting Cards are also available in packs of 10 or 25 (discount does not pertain to single greeting cards).

Available images include Landscapes, Waterscapes, Urban, and Rural scenes (such as barns), with the selection covering a variety of Black & White and Color photos.

Upon checkout in the shopping cart, enter Discount Code ZXCVHM in the space provided. The final total will reflect your discount. Valentine's Day is just around the corner, so treat someone close to you, or yourself, to something different this year. A print lasts a whole lot longer than chocolate or flowers. ;)




January 21st, 2013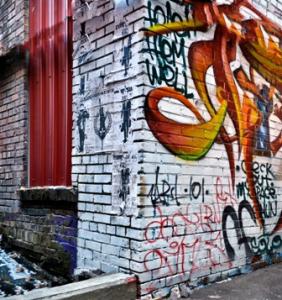 Blog #05
January 21, 2013

Have had the urge to get out on another photo excursion, albeit if only a local one, but cabin fever is starting to set-in with all this cold weather. Currently it's 24 degrees, and has been cold all day with a slight breeze, making it seem colder still. I'm just not a cold weather type, and tend to hibernate, unless I have to absolutely venture out.

Thinking of venturing downtown again and checkout the alleys for any new/updated graffiti, as it seems to continually evolve, but I'm not betting on anything new being done, considering the cold weather. For now, I'm going through older files and seeing if there's an image or two to glean from there, and hopefully process something to post. Come on Spring!

http://greg-jackson.artistwebsites.com

January 18th, 2013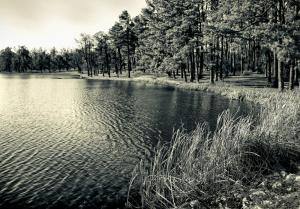 January 18, 2013
Blog # 04

If I had the monetary funding to splurge on high-end gear, and lots of it if given the choice, I'd probably depart the house with the back seat of my truck loaded to the gills (not really, but it's a thought). However, all I have to do is grab my one small camera bag and I'm out the door ready to go. Traveling light has a lot of advantages, at least where I'm concerned. Not a lot of stuff to sort through once I arrive at a destination, as the one bag slings over my shoulder, and I have at my disposal my camera…and two lenses. The bag also contains the charger, which does require an electrical source, lens cloth, filter cases, a couple extra memory discs, and a rain cover for the bag itself.

If I only need one lens for what I'm after as far as images, then I normally leave the bag placed under the back seat, and just haul the camera around. Mind you, I normally only spend maybe an hour (sometimes a bit over) when I'm out, so traveling light permits me to not expend a lot of extra energy lugging heavy gear…at least that's my theory and I'm sticking to it for now. Oh, the water bottle I mentioned in another blog installment…that also stays in the truck for afterwards.

The ultimate point is to get out there, no matter how much gear you want to carry with you, and capture images, and have fun doing it!